Willy Wonka and the Chocolate Factory is one of my all time favorite movies to watch with the family. I loved watching Gene Wilder in this film. This is such a wonderful movie to watch with the kids, if you haven't yet let them experience Willy Wonka and the Chocolate Factory, you must put it on your weekend to watch list. There's something new happenning with this movie though and today I am sharing that information with you …
Win Tickets to See Willy Wonky & a Chance to Meet the Cast!
In the spirit of "WILLY WONKA & THE CHOCOLATE FACTORY™" starring Gene Wilder, we have a wonderful Golden Ticket opportunity for you and your readers! Six lucky winners will win up to 4 tickets to see Willy Wonka and the Chocolate Factory Live-To-Film at the Hollywood Bowl! But that's not all, a few extra-lucky winners will also win a meet & greet with members of the cast! The show stars John Stamos, "Weird Al" Yankovic, Finn Wolfhard, Elle King, and more! *Please note this does not include hotel, airfare, or transportation.
How to Enter to Win Tickets to See Willy Wonka
Submit a video – or a photo – that shows you're the BIGGEST Willy Wonka Fan!
And have fun with it! You could….tell us about your favorite "Wonka" related memory, snap a selfie in a Wonka T-shirt…..show of your best Oompa Loompa Dance….sing your favorite song from the show….rap about it…create a poem about it…cover yourself in candy…..dress up as your favorite character….. Anything and everything goes!!!
Click here to learn more about the official contest, how to enter, and hashtags to use.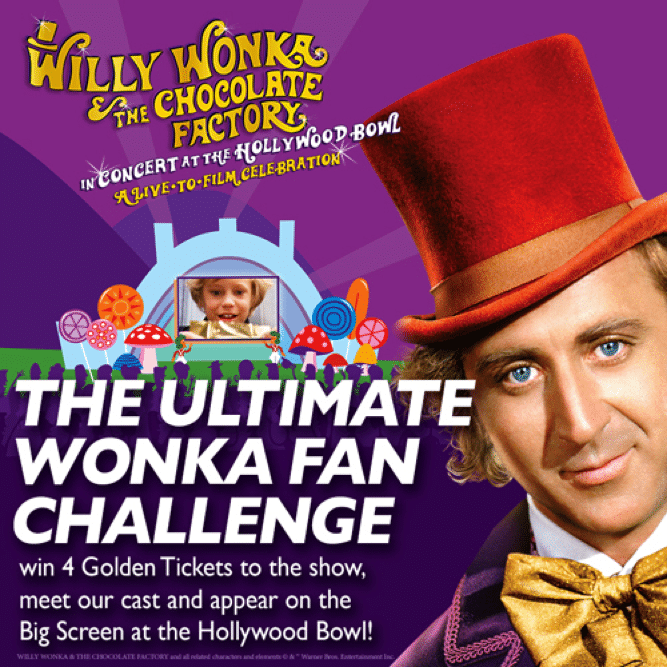 Wanna win tix 2 see Willy Wonka @JohnStamos & @AlYankovic at the Hollywood Bowl #willywonkabowl
Click To Tweet
More About the Show
Warner Bros. Pictures' classic, "WILLY WONKA & THE CHOCOLATE FACTORY™" starring Gene Wilder, will be brought to life this November for a special cinematic event featuring John Stamos, Elle King, Finn Wolfhard, and "Weird Al" Yankovic alongside an all-star cast singing iconic songs throughout a one-of-a-kind theatrical experience. Accompanied by multi-instrumental band DeVotchKa, and featuring spectacular animation created by acclaimed painter and illustrator SHAG, this magical show will leave an everlasting impression!
The singing cast includes John Stamos performing "Pure Imagination" as Willy Wonka, Finn Wolfhard ("Stranger Things," IT) as Charlie, Giancarlo Esposito ("Breaking Bad," "Once Upon a Time") singing the role of The Candy Man, and Richard Kind ("Gotham," Inside Out) as Grandpa Joe, with musicians Elle King ("Ex's & Oh's") singing Veruca Salt's "I Want It Now," Ingrid Michaelson as Mrs. Bucket, and "Weird Al" Yankovic as the Oompa Loompas.
The experience will also be presented in SMELL-O-RAMA with guests receiving exclusive Scratch-N-Sniff Golden Tickets and will kick off with a costume contest hosted by original cast member Julie Dawn Cole, who memorably played Veruca Salt.
The show will also showcase special guest artists such as violin soloist Sandy Cameron; 16-year old pianist Emily Bear performing the Oscar®-winning Tom and Jerry short THE CAT CONCERTO live-to-film; and Annabella Lwin from Bow Wow Wow singing the perfect party song finale, "I WANT CANDY."
Doors will open at 6:30PM with costume contest to follow and the concert beginning at 8PM.
WILLY WONKA AND THE CHOCOLATE FACTORY™ and all related characters and elements © & ™ Warner Bros. Entertainment Inc. (s17)
To Purchase Tickets, Visit: http://bit.ly/wonkabowl
Official Hashtag: #willywonkabowl