I have older kids so crafting with kids isn't as popular around here as it was back in their younger years. While my kids are older, they do enjoy some crafting fun. Recently Santa brought a bucket of Perler beads with Emoji theme templates.
This bucket of Perler beads came with enough beads to make some of the best emoji symbols ever. We can make the tongue out face, the poop emoji, the sunglasses emoji, and others.
As a means to never grow old, and to teach my kids that you can grow up without getting old, I've been all about Perler beads crafts for kids.
We enjoy looking up unique Perler beads templates online and using our imagination to craft up some Perler bead designs. Eventually, we'll purchase some magnetic strips so we can make magnets to sell.
Right now, we're enjoying learning how to iron Perler beads, create new Perler beads templates, and just have fun using our imagination as often as possible.
Getting Ready for Perler Beads with Kids
We took our Perler beads and placed the three plastic bags of beads into three cereal bowls for quick access.
Once our beads were placed into three bowls, we could access the beads quicker. I highly recommend you use tweezers for these fun crafts with kids' sessions. Picking up the Perler beads by hand sucks!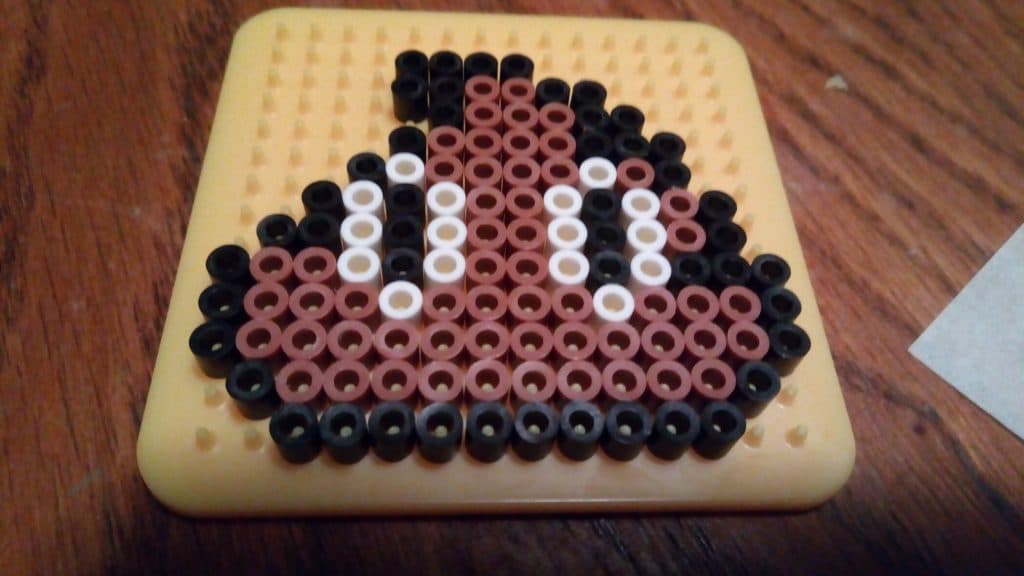 Once our beads were in cereal bowls for quick access, we followed a template or used our imagination to create our Perler beads creations. I did LOL as shown earlier in this blog post and my son did a poop emoji.
Then we had to use the iron paper over our design and ironed the Perler beads until they fused together. This process took about 20 seconds per side.
Once you've ironed both sides of your Perler beads creation, it's all ready for you to enjoy. I am going to buy some magnetic strips to put on the back of my LOL design, but my son keeps his poop emoji on his desk in his bedroom.
What age are Perler beads for?
Kids of all ages can enjoy Perler beads. The Perler Biggie Beads are made for younger children who may be at risk of putting beads in their mouths. The Perler Biggie Beads are large in size at about 10mm and help your younger kids enhance their fine motor skills.
Regular Perler beads are 2.6mm in size and recommended for children ages 4 and older. Perler beads are a fun way to encourage creativity, family bonding, and a love of imagination.
30,000 pcs Fuse Beads Kit 30 Colors 5MM for Kids, Including 10 Ironing Papers,48 Patterns, 7 Clear Pegboards, Tweezers, Perler Beads Compatible Kit

Perler Beads Assorted Fuse Beads Tray for Kids Crafts with Perler Bead Pattern Book, 4001 pcs

FunzBo Fuse Beads Craft Kit – 111 Patterns Melty Fusion Colored Beads Arts and Crafts Pearler Set for Kids – 5500 5mm Bead 9 pegboards for Boys Girls Age 5 6 7 Classroom Activity Gift Toy

NOTE: You know your kids best. You should always supervise children who are prone to putting small items in their mouths, nose or ears.
Do you need a pegboard for Perler beads?
Yes, you will need to use a pegboard for Perler beads crafts for kids. Most of the Perler beads kits for kids come with their own pegboard. Ours came with a square and circle pegboard for Perler Beads.
You'll need a flat and level surface for your pegboard for Perler beads. These little beads enjoy slipping off whenever you're putting new beads on, and can honestly get you frustrated if on an uneven surface.
There are a variety of pegboards for Perler beads to include:
Perler Beads Large Square Pegboards for Kids Crafts, 4 pcs

20 Pieces 5mm Fuse Beads Pegboards Clear Plastic Pegboards Craft Tray with 20 Pieces Colorful Cards, 4 Pieces White Beads Tweezers, 10 Keychains, 10 Hang Ropes, 20 Hang Circle for Kids DIY Craft Beads

H&W 4PCS 5mm Fuse Beads Boards, Large Clear Pegboards Kits, with Gift 4 Lroning Paper (WA3-Z1)

How long do you iron Perler beads?
Now, this is one of the areas that I totally fail at. My instruction sheet on the Perler beads kits for kids we have sais 10-20 seconds per side. I cannot get it right for the life of me.
I messed up my son's first poop emoji creation, that took him 36 minutes to create. Yes, he is 11 and had me set a timer to find out how long it took to make his little Perler beads poop emoji creation!
Based on my research it says that you need to use iron paper, which comes with the kits or you can purchase Perler iron paper here. If memory serves me, I have used wax paper and parchment paper for ironing Perler beads, so if you have either of those options hanging around, you may use either.
The best way to know how long to iron Perler beads is to follow this simple instruction: place the iron paper over your Perler bead creation on the pegboard, using a preheated iron, run the iron in a circular motion over your Perler beads creation, placing firm even pressure for up to 30 seconds.
Repeat this process for the other side, you'll take the Perler beads ironed side off pegboard, flip over, place on an iron-safe surface, put the iron paper on that side of the creation and repeat the steps to iron your Perler beads.
This will fuse your creation together to keep forever and ever.
Perler 80-54345 Harry Potter Fuse Bead Kit, 4503pc, 19 Patterns, Multicolor

Are Perler beads toxic?
I first thought that the fumes of melting Perler beads for kids would be toxic. Upon further research, I've learned that Perler beads are non-toxic!
The Perler beads are made from a food-safe plastic known as LDPE which makes them non-toxic and safe for use during your crafting with kids sessions. Just check the ingredients before purchasing your Perler beads, as you know sometimes products online come from other countries and aren't always manufactured the same way!
5 Fun Perler Beads Crafts for Kids
Check out my roundup of fun Perler beads crafts for kids below. I handpicked some of my favorite options of things to craft up with kids using Perler beads. My personal favorite on this list is the Kids' License Plate for their Bicycle.
A perfect summer break activity idea!
[mv_create key="8″ type="list" title="Perler Bead Crafts For Kids" thumbnail="https://parentinfluence.com/wp-content/uploads/2020/02/Mini-DIY-Kaleidoscopes-BABBLE-DABBLE-DO-with-perler-discs2.jpg" layout="circles"]
Pin for Later
Please subscribe to my weekly newsletter to get updates when I extend upon this topic. You can also like & follow Parent Influence on Facebook for instant news & updates.