I remember the elementary years at public school when my kids had to bring Valentine Day cards for kids in February of each year. While my oldest child enjoyed this process, my other two kids weren't into it.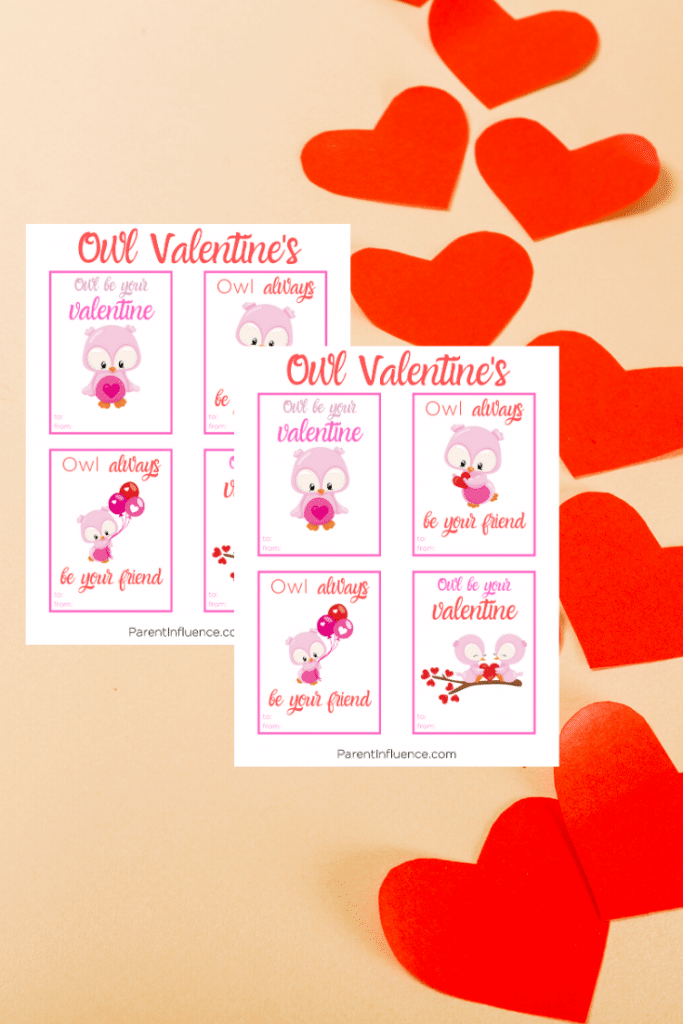 My two sons, the younger kids, felt that it's stupid to give a Valentine's Day card to everyone. The youngest son also felt Valentine's Day was stupid in general since it's' all about companies trying to take your money.
You see, my youngest son is wise beyond his years in some ways. I completely agree with him, being forced to give Valentine's Day cards to every kid is simply something I've never been on board with, but if my kids wanted to, we did it.
The Days of Valentine's Cards for Kids
I remember searching the internet for free Valentine's Day card printables. It was just easier, and as a single mom most of their lives, it saved money! I loved crafting with kids back in the day, it's an excellent way to spark joy, spend quality time together, and enhance creativity.
Since I no longer have little kids, they're 17, 13 and 11, we don't craft as often as we used to. They're into other things, like graphic art and digital creations.
That's why I hold onto those fun memories of making crafts with kids and try my best to encourage other parents to take part in making arts and crafts with kids. You will miss these days!
Unomor Valentines Day Cards for Kids 36 Pack Foam Airplanes and 36 Pack Valentines Cards with 6 Different Designs for Kids Classroom Exchange Party Favors(8" x 7.5")

Sustainable Greetings Bulk 36-Pack Valentine's Day Greeting Cards, Romantic Notecards, 6 Vintage Floral Designs with Pink Envelopes Included, 4 x 6 inches

MAOYUE Valentines Cards for Kids, 32PCS Valentine Day Cards with 8 Patterns & 4 Scents Valentine Scratch and Sniff Cards Stickers for Children Valentine's Day Greeting Party Favors, Envelopes Included

How does arts and crafts help intellectual development?
There are many benefits of arts and crafts with kids. While some kids aren't into this type of activity, like my middle child, it is beneficial for kids to develop strong arts and crafts skills for intellectual development.
Boosts Creative Thinking
My youngest son has an advanced creative mind. The kid can think his way out of anything. He's so full of charm, and he's by far the stereotypical definition of the youngest child.
He will to this day enjoy some crafts with me, such as making panda or poop emojis with Perler beads. He is creative with his problem-solving skills and is often our wise "old man" of the house.
Arts and crafts provide kids a chance to encourage the "outside of the box" thinking they'll need throughout the entirety of their life.
Improve Literacy Skills
The free owl Valentine's Day cards I'm sharing today feature play on word concepts to gift to kids in the classroom. Having your kids participate in arts and crafts that encourage a play on words, will help advance their literacy skills.
While this is a simple version of it, the bigger picture is that during arts and crafts time your kids must-read directions, follow instructions, and in turn, figure out how to articular what they're making through spoken words.
These parts of making arts and crafts with kids help enhance their vocabulary as they learn new words by reading instructions.
Encourages Fun
Childhood is the only time we're encouraged to live a truly free life. While many children think childhood sucks, and as they venture into the teen years think rules are stupid and they can't wait to be an adult.
Us adults know that childhood only comes once and it's the best years of our life. We got to play, have fun, laugh, and feel carefree. Then we became adults with rules, responsibilities, and stress.
Arts and crafts will help your kids learn how to be fun, regardless of their age. I firmly believe children who grow up with a love for arts and crafts will be able to handle stress better and know how to maintain happiness in life.
Nothing But Good = Arts & Crafts
At the end of the day, there's nothing negative I can say about arts and crafts. I believe this practice helps inspire kids to be confident, intelligent, compassionate, and better at hearing what other people have to say.
If you're ready to start encouraging arts and crafts with kids or simply want a budget-friendly Valentine's Day card for your kids to gift to friends, then click the image below to download your FREE printable Valentine's Day cards today.
Don't forget to subscribe to ParentInfluence.com to get on the list for weekly newsletters and future FREEBIES!
Download free Owl Valentine's Cards for Kids Now
Enjoy these fun play on words Owl themed Valentine's Day cards. I chose to get the owl-themed printable for you because my Grandmother loved owls and it reminds me of my own childhood.
I also feel the play on words with Owls could be endless!
Have fun downloading this free batch of Owl Valentine's Day cards for kids today. Print as many as you need, and then have your kids write the information in the to and from fields to bring along to school to gift to their friends.
How to Print Owl Valentine's
Click the image, it will open a PDF file in a new tab.
Download the PDF.
Save and print as many times as you want!