Most of us are trying to lead a happy and perfect life. To achieve this, all you have to do is look at what the Japanese are doing. From balanced diets to socializing, you can bet that the Japanese have mastered all facets of life. Here are 50 of the most important lessons on life you can learn by imitating the Japanese.
A Balanced Diet Is All You Need to Remain Healthy
A balanced diet is what most people pay the least attention to while seeking a perfectly balanced life. As far as Japanese are concerned, they follow a healthy diet. The staple meal of Japanese includes a portion of rice, fresh veggies, fish, and seafood.
If you want to add those happy years to your life, simply do it the Japanese way. When you incorporate a healthy diet into your lifestyle, you have a better chance of staying fit, even as you grow older. In addition, make sure you're getting plenty of exercise. It's okay to indulge in carb-heavy foods every once in a while, but balance it out with some good-old-fashioned jogging.
Make the Most Out of Small Spaces
If there's one thing you should know about the Japanese, it's that they make the most out of small spaces. Most homes in Japan, especially in urban areas, hardly offer very much moving room. Due to the population density, people have to learn to make do with the small residences allotted to them.
Plus, there's a level of satisfaction if you learn to live in a small home or apartment. There isn't a ton of cleaning to do. Not that you'd do it anyway, what with robotic vacuum cleaners and your being busy at work or hanging out with your friends.
Tea with Wagashi
If you are a tea lover, you will surely enjoy being in Japan. Japanese tea is popular worldwide, and most people enjoy it with a side dish of Wagashi. Wagashi is a traditional Japanese confection that is often served alongside green tea. There are a whole variety of sweets available in distinct patterns and sizes.
Some sweets are available throughout the year while some are seasonal. The sweets are made to perfection and look like a piece of art that not even someone on a diet can resist. If you have a sweet tooth, you will simply fall head-over-heels in love with Wagashi.
Disposable Toilet Anywhere & Anytime
A very common concern most people face when they step out of the house is finding a bathroom. When you don't find one, it can be a very embarrassing situation. Well, to avoid such scenarios, there are disposable toilets used by the Japanese.
Disposable toilets are portable and make your life so very convenient. The smell gets absorbed and hence it doesn't leave you feeling embarrassed in public places. Such tools come in great use, especially when you are planning a road trip accompanied by kids.
Limited Trash Bins
In Japan, you will find limited trash bins as people out there carry their own plastic bags to fill trash. The country is not only beautiful but very clean as well. Cleanliness is well maintained and hence, the need for trash bins is limited.
People follow strict discipline when it comes to cleanliness. So, if you are planning to visit Japan, don't forget to carry your own plastic bags. It is a good practice, and if every citizen follows it, the world will be a better place to be in.
Liquefied Band-Aids
Japanese are very eco-friendly, and here is the best example to prove that. They avoid using regular band-aids for valid reasons. Their band-aids are made of non-biodegradable items and therefore, liquify when they're no longer in use. Liquid band-aids are simply made of surgical glues and are a great way to deal with cuts while traveling.
It heals the wound faster as it is water-proof. The application of the glue is quite easy and can be used on bigger wounds as first aid as well. So, if you are in Japan and have injured yourself, keep a couple of biodegradable band-aids on hand.
Eco-Friendly
Most people make use of disposable plates during home parties, and it is a sheer waste of plastic. However, Japan follows a different method as they are eco-friendly by nature. The country has been following it for decades now, while other countries have just begun switching to eco-friendly items.
The plates used by the Japanese are made of bamboo and are highly durable. The best part is that these plates and other dishes made out of bamboo leave no damage or messes in nature. So, if you are planning to host a party next time, consider using eco-friendly items.
Seasonal Food
As mentioned earlier, the Japanese follow a healthy diet and hence, they give a lot of preference to seasonal foods. The food is sourced locally, and they follow a seasonal diet for healthy living. They choose foods that are only obtainable at that time of the year.
Therefore, the combination of foods in Japan is a bit unusual. The best part about the Japanese is that they don't waste food. People are fond of pickled and dried foods here as it adds a great flavor to all kinds of dishes.
Space Efficiency
Nothing comes in the way of a comfortable living for the Japanese, not even cramped spaces. As stated above, they make the most out of the least. Here is the perfect example of how the Japanese can utilize cramped spaces to their best abilities.
In most of the kitchens in Japan, you will find a tiny oven right below the gas burner, which helps in grilling or heating up foods. It truly is amazing how resourceful the Japanese can be. And this is just one example of their ability to save space in as little square footage as possible.
All-Purpose Upholstery
It is not an easy task to raise children at home when there isn't enough space to move around. Children, especially toddlers, need a whole lot of space to play and make messes. Therefore, a multipurpose desk is one of the best pieces of equipment you could own.
Multipurpose desks can turn into a place for studying, drawing, and playing board games, and at the same time, your kids can keep their toys organized when not in use. It takes less space in the house and also keeps your room neat and organized. Isn't this a wonderful practice to follow from the Japanese?
Chemical-Free Devices
Skincare is of the utmost importance for the Japanese, and you will find most of them paying more attention to their skin. They avoid using products made of harmful chemicals. When it comes to face peels or masks that are widely available in the market, there is always the fear of chemicals that may be harmful to their skin.
Some may be good while others may harm your skin. Therefore, it is best to avoid such products and go for something natural. A Japanese inventor came up with this device to hydrate and clean your skin with a face peel using just water.
Always Follow Orders
Discipline plays a significant role for the Japanese. They focus heavily on following orders and sticking to the rules. Very rarely is there a situation where you will find someone willingly breaking the rules in a public place. They neither push nor bump into each other as they observe and follow every single order.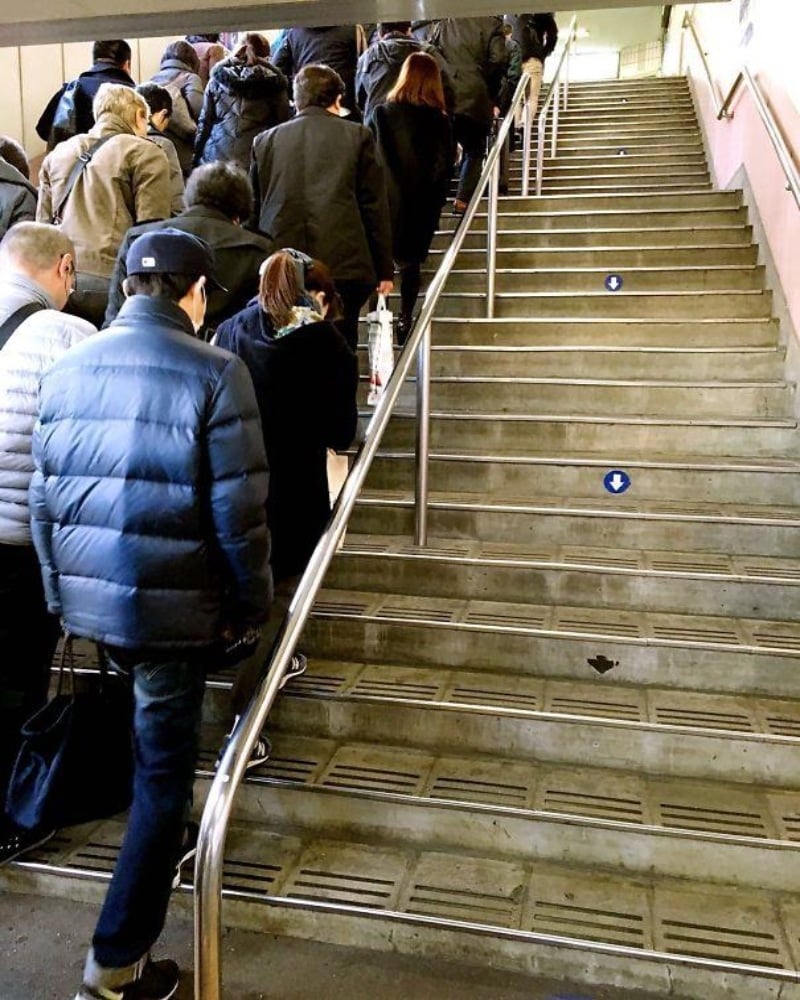 Whether it is at a store, train station, or a crowded mall, people patiently line up and wait their turn. Personal space is imperative for them and hence, they follow stick to any personal-space lines. There is no denying that the Japanese are the one of the most, if not the most, disciplined people in the world.
Stay Polite
The best part about the Japanese culture is that the people there are extremely polite. The culture has taught them to be friendly and kind to each other. They believe in table manners, gestures, the correct way to address people, and to be respectful. They always bow their heads to welcome guests.
No other country follows these good habits as dedicatedly as the Japanese. Kids are also greeted with love, and the country makes travelers want to visit time and time again. Being polite doesn't cost you a single penny, so if at all possible, try your best to be polite to everyone.
Entertainment
If you are in Japan, you can never get bored since the country has so much to offer. Cosplay and Karaoke are the most common forms of entertainment for those looking for ways to cool down after a hectic day at the office. The bars have karaoke, and people thoroughly enjoying singing to their favorite tracks.
Cosplay means dressing up as one of your favorite characters from a fictional universe. They are very particular when it comes to detail, and everything has to be as close to perfect as possible. The Japanese spend generously on the costumes, and it shows from how realistic and true to form their outfits are.
Clear Up
How the country disposes of its garbage is unreal. It is quite complex as they are taught to separate garbage from recyclables before taking them out to the passing dump trucks. There are numerous instructions that all residents have to follow closely. If you really want to see how they do it, you can download the entire 42-page PDF on proper garbage disposal techniques.
And believe it or not, the people there follow all 42 pages to the letter. They have to, otherwise the city won't collect their garbage, and they'll be stuck looking like the odd one out. The country is known to be one of the cleanest, and the garbage disposal system has been streamlined for the benefit of the people.
The Principle of Kaizen
The Japanese place a ton of importance on the principle of Kaizen. So, what is Kaizen all about? It's a principle that guides people on how to do any task they have at hand. Regardless of how difficult or simple the task may be, they should follow proper steps to complete them as effectively as possible.
For instance, say you have a humungous book you need to finish reading. It may be impossible to complete the book in a single day, but if you read the book for 30 minutes each day, you'll eventually complete it without fail. Big or small, hard or easy, following the Kaizen Principle will help you get your work done in a timely manner.
Robots Everywhere
Japan is one of the leading countries when it comes to advances is robotic technology. In fact, nearly every aspect of life, you can bet that in Japan, technology will play a vital role. Robots have pretty much become commonplace in all of Japan, from healthcare to even sports!
So, what do they do with these robots? It depends on what industry you find them. Robots serve simple purposes like helping with manufacturing and packaging, but they can be as complex as aiding the elderly and even providing lost tourists with directions to return to their hotels. Robots are everywhere in Japan!
More Care for the Elderly
The way the Japanese care for the elderly is truly out of this world. Not only do they have robots to provide their golden citizens with whatever services they need, but human employees will go out of their way to ensure that every resident is as comfortable as possible.
There's even a special time in September of every year known as Respect for the Aged Day, where the oldest child of every family takes time off to care for their parents. There's a huge contract between our cultures in terms of taking care of our parents, and we think it's about time we spend more time with mom and dad!
Pink Is Beautiful
The most beautiful flower in Japan that blooms only in the spring is the cherry blossom. It blooms for a short time—roughly a week or so before they're gone until the following year. The flowers look so spectacular that there is even a festival to celebrate the week-long blooming period known as Hanami.
Hanami means to view the flowers or to enjoy viewing the cherry blossoms. People from all over the country and even abroad flock to get a glimpse of the beautiful flowers in bloom. The flower signifies the nature of both life and death, which is a pretty good reminder of how short life can be.
Anti-Fog Mirror
When you are done taking a hot shower in the bathroom, the mirror is all steamy and there's nothing you can see clearly. It is fun to write names or messages and draw tiny faces with happy or sad emotions. But, how will you dress up with a mirror which is covered with fog?
Wiping it with a cloth or your hand is the only way out or is there a better solution than this? Well, all you need to install is a Japanese mirror. It is a mirror made through a heating component that prevents the mirror from the fog.
Put on Your Mask
It should come as no surprise that the Japanese are an incredibly health-conscious people. They pay close attention to their surroundings and how they prepare themselves before stepping outdoors. When they fall ill, as even the best of us tend to do sometimes, they don't just take great care of themselves but also go out of their way to ensure nobody around them catches the bug from them.
They wore masks before wearing masks was mandated throughout the entire world. The Japanese also pay special attention to how often they wash their hands to prevent the transmission of bacteria to those at home.
No Door Technology
One of the greatest annoyances in this day and age is losing your keys and having no way to go inside. Wouldn't it be nice if there was a piece of technology that allowed you to enter your home without carrying around a keychain? Well, there is such a thing, and you'll find them all over the place in Japan.
The Japanese have installed keyless deadbolts and locks to nearly any door, so people can enter and leave without fumbling around with a large set of keys. They have them here, too, just in case you're interested. It's just that the Japanese implemented them at a wider scale than we have here.
Remedy for Cold Sores
When you are suffering from cold sores, it is a terrible feeling that takes time to heal. Plus, there's a social stigma surrounding cold sores that can leave you too embarrassed to leave your home. But if have cold sores while in Japan, there's no reason for concern. The Japanese have invented an ointment to get rid of these unsightly wounds in a jiffy.
Simply unscrew the cap, place a dab of the ointment on your finger, and apply it onto the affected spot. The pain subsides almost instantly, and the redness will dissipate in a matter of days. This magical cure for cold sores is truly a lifesaver.
Road Heating System during Winters
The northernmost part of Japan can get punishingly cold during the winter. Snowfall is measured in feet, not inches, so it can be difficult for people to get around. While it makes for the perfect place to ski, walking on sidewalks and driving on the roads becomes increasingly more difficult.
So, to overcome the problem of snow and ice, the Japanese government has installed built-in heaters in the roads. The heated system slowly thaws the ice, leaving the pavement safer for travelers. As a result, people can walk across and drive on roads without worrying as much about traffic accidents.
Go Grab Those Snack Tongs
Snack tongs are something we wish we had in the West. They're the perfect snacking tool if you don't want to get your fingers covered in nacho cheese or artificial flavorings. Snack tongs are like chopsticks for newbs, which makes them the perfect tool for us in the West.
However, we're not entirely sure about whether people in Japan bring their own snack tongs or if a party host provides them. Also, does everyone just stick their tongs in the same bag or bowl of snacks? They probably move snacks to a separate bowl and use their tongs to fish them out.
No More Splashes
A clean bathroom is a happy bathroom. However, if you've ever taken on the task of wiping gross stains from toilet bowls, you probably know just how annoying it can be. And it becomes infinitely grosser when water splashes from the bristles of your toilet scrub and onto your bathroom floor.
But in Japan, they have a hands-free way of maintaining cleanliness in the dirtiest room at home. They have bidets with self-washing capabilities that both keep your hindquarters clean (and dry) while also removing old stains with high-pressure blasts of water. Bidets are becoming more commonplace in the US, which is definitely a good thing.
Can You Hear Me?
While we're on the subjects of bathrooms, we might as well inform you of the ingenious way the Japanese block out embarrassing sounds. If you're afraid of all the toots and weird sounds that come from your body while using the bathroom, just play a little music to drown out the humiliating noises.
Many restrooms in high-end public places in Japan have super-sophisticated bidets that come with built-in music players. Just scroll through the music library and choose a song that you can both boogey down to while also drowning out those hysterical sounds. Heck, you might even find a theme song for your number-2 business!
Floor Patterns Makes it All Seem So Easy
The Japanese have truly thought of everything, from how to maintain your composure while using public restrooms to keeping roads from becoming too slippery in the winter. Now, we just learned that the Japanese have invented a walkway system to help the visually-impaired navigate around town.
In certain places, you'll find color-coded tiles with unique bumps to help the people with vision problems move about. We have these here in some parts of the country, too, but to be frank, we never really knew what purpose they served. Best of all, because they're color-coded, people who don't have eyesight problems can use them to find their way to popular sites.
How About Jumping in Puddles?
There's just something about puddles that make us want to jump up and down in them. Perhaps we've been watching too much Peppa Pig, or maybe we're all hardwired to find entertainment in something as simple as moist spots in the middle of open fields. They understand this in Japan and have even found a way to create puddles in the middle of summer.
A preschool in Japan has created a roofless building where water can accumulate, thereby creating a shallow puddle for its students to play in. Ingenious? Yes, we think so. Now, excuse us as we book a ticket to Japan and attend preschool again.
Pet Cafes
Do you know what's better than relaxing in a café with friends? Relaxing in a café while a rabbit sits calmly on your lap. In Japan, they have petto-cafe, or pet cafes, where patrons can sip a warm cup of java in the presence of furry, four-legged animals.
What's the purpose of these establishments, you ask? Well, one might argue that pets can make us feel calmer and forget about work-related stresses. But if you ask us, the Japanese invented these cafes because they're awesome. You can even get up from your seat and walk around to take a look at all of the animals!
Discard the Chewing Gum
They say that chewing gum can make you calm and more focused. Regardless of what it can do, gum is delicious. The only problem with gum is when it runs out of flavor. You can't just discard it on the side of the road, especially in Japan where you can be fined for littering.
In Japan, gum manufacturers include several sheets of paper, which you use to store your used gum before tossing it in a trash can. You'll need to dispose of your gum before entering any public facility, such as their trains or in government buildings. But we didn't have to tell you that.
Socks Everywhere
There's a fashion trend spreading across Nippon. Young girls put on loose socks that sag to the top of their shoes. We're not sure where this trend came from, but they look incredibly uncomfortable. How do the socks stay in place and not droop to the bottom of the shoes?
The answer is quite simple, albeit confusing. They use an adhesive to keep the loose socks in place. They glue the sock to their shins to produce the fashionable droopy look without it getting in the way of how they walk. We're fans of ankle socks or going foot-commando, but hey, when in Rome.
Please Take Your Seat
If you go to Japan, one of the first things you'll notice is the bathroom layout. Their bathrooms are designed almost entirely different from what we're accustomed to here in the States. For starters, they have stools in the bathroom that you can sit on while taking a shower.
While bathtubs aren't unheard of in Japan, they take too much space for the average bathroom. So, their showers are limited to just a showerhead and faucets, as well as a bucket if you prefer pouring water over yourself. Also, there's virtually no risk of slipping and sliding around if you're sitting down.
Food for Thought
If you haven't traveled to other countries, then you're probably unfamiliar with their eating customs. For instance, in Japan and other places in Asia, it's actually polite to slurp your noodles. Here, people would give you the stink eye for making noises while eating, but in Japan, the host will take it that you like their food.
And that includes eating out in public. If you have an aversion to hearing people slurp and chew on their food, you're probably going to have a rough time in Japan. We don't know about you, but we find it incredibly comforting to know that people won't glare at us from the other table for making noises.
Safe Hair Dryers
Hairdryers are one of the most ingenious inventions of modern times. They dry your hair much more quickly and evenly than towels, making you look outdoor-ready after just a few minutes of blowing. The problem is that hairdryers use heated air, which can damage your hair over time. Totally not bueno.
But you can trust that the Japanese have found a solution to this problem. They came up with a hairdryer that also shoots collagen into your hair and onto your scalp. Collagen can help promote stronger, silkier hair. As you age, your body loses its ability to produce collagen, and you'll need all the help you can get.
You Won't Feel Lonely
Loneliness can be an undefeatable monster if you're too used to living alone. Finding that one special person in your life can be a life-long journey than many people never accomplish. By many people, we mean ourselves. Sorry for spilling our heart out to you guys, but if anyone's looking for a significant other, we're available.
But if we moved to Japan, we could at least rely on these pillows to keep us company during long, lonely nights. These pillows are so popular that even adults have them in their bedrooms. They're not the perfect substitute for genuine affection, but hey, it totally beats sleeping alone.
Cleanliness
For the most part, Japan is impeccably clean. Like impeccably impeccably clean. If there were a city in the United States as clean as Japan, we guarantee you that the residents will find a way to ruin it for everyone. So, how does Japan do it?
No, they don't have cleanliness police walking around with batons, ready to beat the snot out of polluters. There are signs on every road and on nearly every building, reminding people to keep the city clean. Plus, there are sanitation workers on duty around the clock to ensure that the streets are perfectly clean throughout the day.
Virtual Reality for Senior Citizens
Do you want to hear something that's truly out of this world? In Japan, many of their nursing homes have virtual reality headsets for their patients. They can wear these headsets and goggles to virtually travel around the world. This is a great way to keep their minds and bodies busy in spite of how quickly age is creeping up on them.
This technology was developed to bolster the spirits of patients who are confined to the nursing home 24/7. So, not only do they have robots at their beck and call, but they also get to travel to distant countries from the comfort of their beds!
Concealed Storage
Again, we'd like to point out how resourceful the Japanese are at utilizing what limited spaces are afforded to them. One ingenious way of ensuring that their homes are cluttered is by having concealed storage spaces all over their homes. In a moment's notice, you can keep large objects out of view simply by pulling a door open and tossing it in.
This probably means that the carpentry industry in Japan is booming! After all, someone has to have the technical know-how to construct these storage compartments. Also, you can further make use of limited space by installing sliding doors instead of swinging ones.
Know Your Ikigai
Did you know that Okinawa is a Blue Zone? For those that don't know, Blue Zones are places on this planet that have a higher percentage of centenarians than other areas. Other Blue Zones include Sardinia in Italy, Icaria in Greece, and Loma Linda in California.
In Japan, they follow the concept of Ikigai, which can result in people living longer, more fulfilling lives. Everyone should have a mission, a passion, a vocation, and a profession. Knowing what you love, what you are good at, what you can receive money for doing, and what the world needs can give you a fresh outlook on life.
Time Management
Time management is something that the Japanese have mastered. They probably learn at a very young age about how to complete tasks sooner so that they'll have more time to focus on other things. The point we're trying to make is that if you're a procrastinator that can't stick to deadlines, you shouldn't try finding work in Japan.
The work culture in Japan is one of the most disciplined on the planet. It's not uncommon to find a coworker passed out next to you from overwork, and management even allows people to put their heads down and catch up on sleep. Stick to your work schedule and you'll do fine in Japan.
Incorporate Confucianism
The Japanese are best known for their polite behavior as they follow the concept of Confucianism. It is primarily based on social engagement, kindness, and responsibility. Confucianism means to show love, humanity, and kindness to people around you.
This philosophy when implied helps to create an emotional bond with your friends, relatives, and other people and also creates harmony. These elements are necessary to build a good relationship with everyone and help in your overall well-being. The world could definitely use a bit of Confucianism, especially in places where caring for others, being responsible, and neglecting mental and physical health are rampant—i.e., our country.
A Glance at the Traditional Gardens Is Worth it
There are many gardens in Japan and they come in distinct sizes and shapes. The gardens are built based on artistic principles. There is no denying that the Japanese are nature lovers, and the entire country invites foreign travelers to enjoy the same things they love doing. One look at nature in Japan and you'll be hooked.
They appreciate and take care of nature. Besides gardens, you can find public parks as well. The concept of forest bathing or also known as Shinrin-Yoku is very common in Japan. The Japanese spend quality time in nature as there are several health benefits associated with it.
Just Walk it All Out
People in Japan don't prefer a sedentary lifestyle as it does impact their health in the long run. The Japanese, regardless of their age group, simply love to walk. During lunch hours, you'll see huge crowds of people walking to and fro on the streets. They also prefer the floor over a chair or a sofa for seating.
The toilets are designed in a manner that makes them squat which is a great workout for the core. Working people and students either walk to the train station or use a bicycle to commute. Thus this is one of the key reasons that help them stay fit and keep illness away.
Shrines & Temples Brings People Closer
Japan being a secular country has many shrines and temples that contribute to a balanced living. There are innumerable shrines and temples and hence Shintoism and Buddhism in addition to other faiths prevail in the country. Plus, people are a lot more tolerant toward other religions than in other places on the planet.
The Japanese host weddings and organize markets on weekends besides other social activities which bring people and communities closer. People take an active part in such activities and enjoy them to the fullest which contributes to mental health. If you're a sociable person looking for a new setting, you should definitely book a flight to Japan at your earliest convenience.
Hara Hachi Bun Me
When you are eating food, you must ensure that you consume only 80% of it rather than eating it fully. The Japanese belief is that the brain takes about 20 minutes to get signals that the body is full and the eating should now halt as the body has consumed the essential nutrients.
If this process is not followed, you end up stuffing your stomach more than needed. As a result, there is more pressure on the guts. Therefore, the people in Japan follow the concept of "Hara Hachi Bun Me" while eating which acts as a reminder to tell the brain that it has eaten an adequate portion of food.
Nothingness – A Great Concept Indeed
We mostly analyze the significance of our existence, thoughts, and actions. But, in Japan, people follow a different concept altogether and it is the philosophy of nothingness. We mostly analyze the significance of our existence, thoughts, and actions. But in Japan, people follow a different concept altogether: the philosophy of nothingness.
This Buddhist thought is based on the idea that everything will eventually return to nothingness. You, your pets, your family, your job, your office building—there are no exceptions. This concept can really help you gain a new perspective on life. Take life seriously but don't forget to stop and smell the flowers.
Just Listen to People with Complete Attention
The Japanese emphasize giving respect to people by listening to them attentively and fully. When the other person is speaking, you forget about the preconceived notions and subjective views and simply listen. Look at the things as they are and observe the person speaking instead of judging him or her.
When you follow this concept by listening without judging, there is so much peace and happiness. Listen for the sake of listening, not responding! This in turn leads to the best negotiations and also friendlier relationships. It is important to find a door to success and happiness and have a perfect balance between them.
Do Not Tip Anyone
In our country, it's considered rude to not leave a tip for the waiting staff. We wish this culture was done away with and that the waiting staff received livable wages, but that's a debate for another day. In Japan, tipping is not just uncommon, but it's not even expected.
In fact, if you leave a few bills on the table, the waiter or waitress will chase you down the road, thinking that you forgot to pocket your change. If you really want to leave a tip, place money in an envelope and hand it to the waiting staff in person.