Do you miss school? We sure don't. Whether you enjoyed your school years or not, we all know school days can feel like a slog most of the time. Getting up early to go sit at an uncomfortable desk and listen to the same droning day in and day out is not a lot of fun. That's why when you get a teacher that shakes things up, it can feel revolutionary, exceptional, mind-blowing. Talk show host Jimmy Fallon asked his viewers to share their best teacher stories using the hashtag #MyTeacherIsFunny and these Twitter users delivered with funny, weird, and somewhat embarrassing stories about their past teachers. Can you relate to any of these stories? Feel free to share yours in the comments!
#1: *Clicking in Panic*
It's not uncommon for teachers to show their students videos demonstrating or explaining something they are teaching. Visual aids are always a nice way to teach, and in our modern age, YouTube is a teacher's best friend. That's all well and good, the only problem is that most teachers aren't exactly tech-savvy, so it leads to all kinds of funny situations.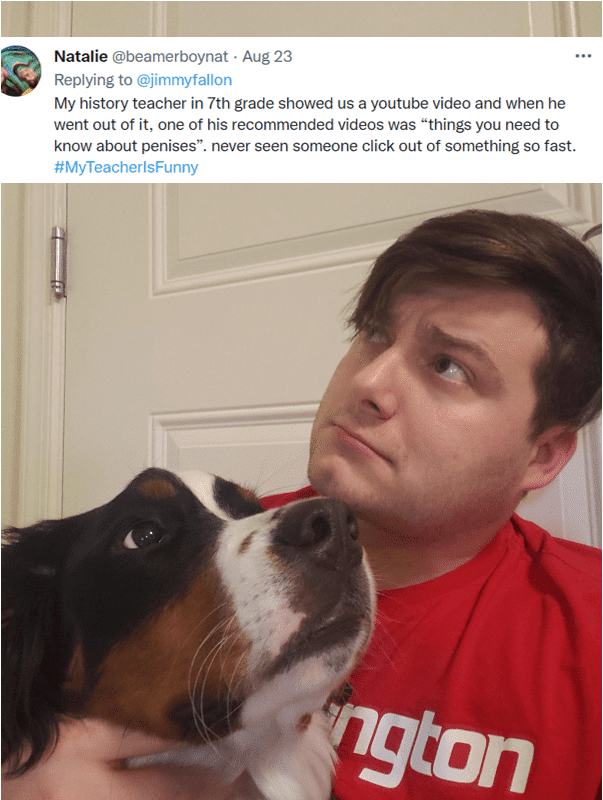 If you don't know your way around the computer, maybe showing your students a Youtube video isn't the best course of action. Especially if your previously watched list contains questionable items. I'm sure the teacher didn't find it as funny, but at least the students had a good time!